Happy New Year, Happy New Year, Happy New Year!
Wowser, where is all this time flying. The older I get the quicker time disappears. I have a special announcement to make soon. But lips are sealed for now ;-)
__….__
I can not be the only one a little put off by the idea of  picking up a uncustomisable wedding cake. It boils down to this. The idea of something made without our input on our wedding day? It can make us feel like we won't get something personal, unique or detailed.It would make most of us feel like we won't get what we want. I have mentioned M&S cakes a while ago but this one is just so beautiful, I got's to share!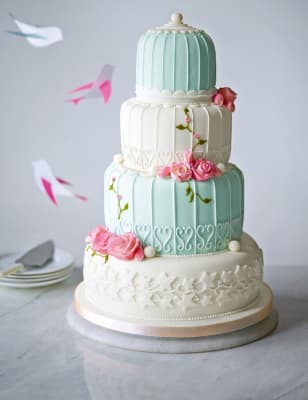 Perfect for a vintage inspired wedding. Ivy detailing on the bottom tiering is unique and the climbing roses look amazing reaching to the top of the birdcage.
With large fruit, all butter sponge, chocolate and lemon tiers and different flavour tiers. What's not to love?
This cake is a delicious 349.00GBP.
Now here come the flowers. Apparently you can get centrepieces and bouquets from good old Marks & Spencers!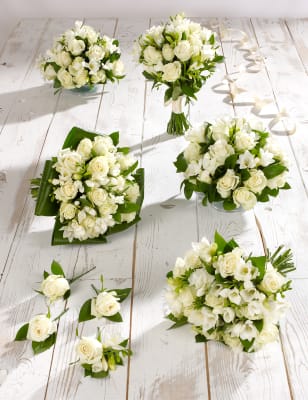 The set above includes 1 bridal bouquet, 2 bridesmaids bouquets, 4 buttonhole arrangements and 2 table arrangements. Retailing at To fit the various needs that you may have, they have taken the liberty of allowing you to purchase individual items also.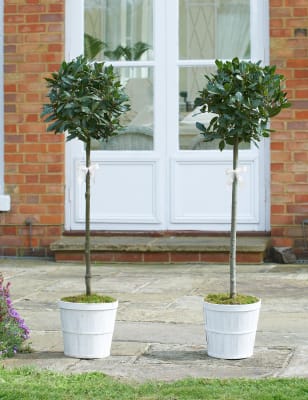 These two bay trees come as a pair would look great decorate at the beginning of a pew. Or even at the doors of your reception venue. The pair are 100.00GBP.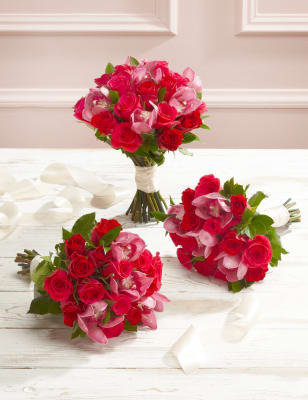 Set of three orchid & rose bouquets come in at 175.00 GBP
Favours too? at 40.00 GBP for 25.
This isn't just a wedding. Have an M&S wedding.
via good old marksandspencer.com